ChartQuick™
Save Time Creating PowerPoint® Charts  
If your job includes preparing data-driven charts, graphs, and tables for PowerPoint presentations, you need ChartQuick!
Version 2.0.1 Released!
What's New?
Free 10-day Trial
DOWNLOAD
Requires Windows XP/Vista/7 +
Office 2007 (w/SP2 update)
or Office 2010
(Excel and PowerPoint)
Purchase ChartQuick
CONTACT
For questions, to schedule an online demo, or to purchase ChartQuick, please email: sales@chartquick.net
Having spent more than 20 years in market research, I know what a time-consuming process it can be. Project staff spend hours typing numbers from printed data runs into PowerPoint charts, or cutting and pasting from Excel. Automated chart-making has never been economically feasible except for large repeat tracking studies.
ChartQuick is an Add-in for Windows Microsoft Excel 2007 that greatly speeds up the charting process, no matter how unique your data is. This powerful tool lets you quickly and easily select data from Excel, create a PowerPoint chart or table based on that data, then add labels and fine-tune options by "remote control" without ever leaving Excel. You're still in control of selecting which data gets turned into what type of chart, but without the drudgery.
In addition to saving time and effort, ChartQuick offers many other benefits:
Prevents errors by eliminating cutting and pasting and manual entry

Lets you select non-contiguous data ranges, so it can be used with any data layout

Creates fully editable PowerPoint charts with embedded data, not just pictures

Makes it easy to grab chart footnotes (e.g. survey question wording) from your worksheet

Gives you WYSIWYG "remote control" over common PowerPoint chart options

Puts controls in one place so you don't need to search for them on PowerPoint menus

Has a simple, user-friendly "wizard" interface
Watch the demo video and download a free 10-day trial version of ChartQuick today!
Easy to use wizard interface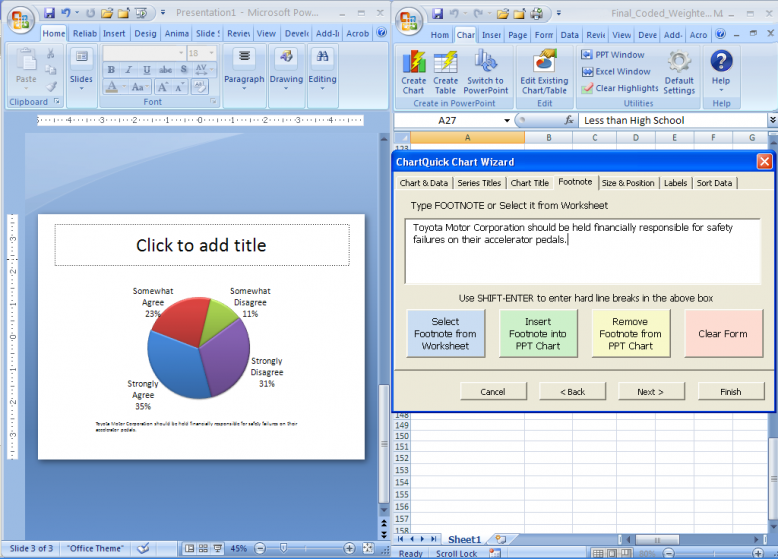 Control chart options by "remote control"

Create charts from non-contiguous data ranges

Merge and automatically sort table data columns